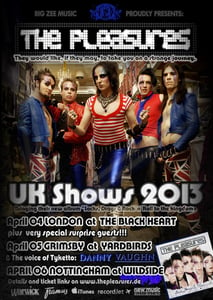 £

6.00 - On Sale
THIS TICKET IS FOR THE LONDON SHOW ONLY:
BIG ZEE MUSIC & LIVE ALLIANCE presents:
Yes! The Pleasures will return this spring for some amazing shows in the UK!
They aren't simply a five-piece glam rock band from Hamburg,
Germany, born of a love for all things outrageous and gender-transcending.
This is the most exuberant, gaudy, arresting onslaught of glam n roll you could ever imagine.
Wild rock reminding of the colourful 70's and 80's, spiced with a lusty shot of glam and a tiny portion of industrial.
The Pleasures are single-handedly reinventing, redefining and revolutionising everything that you used to understand as "glam rock.
…this all might sound like a glitter soap for advanced, but it is rather a tragedy of five orphans that must be taken seriously, a story without a secure happy ending, a trip between trans gender and unconditional passion…
Yes, It's us! Join our parade! Shut up and start to rock!