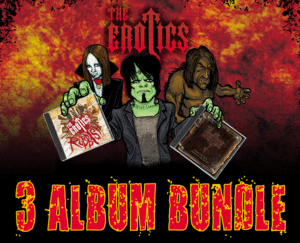 £

20.00 - On Sale
3 ALBUM BUNDLE
Get the Full EROTICS FIX!!
Contains the new EROTICS EP 'Boulevard of Choking Screams' plus the albums 'RUBBISH' and 'TODAY THE DEVIL TOMORROW THE WORLD'.
PRE-ORDER
RELEASED 5th MARCH 2012
WORLDWIDE SHIPPING INC IN COST
Brand new LIMITED EDITION 5 Track EP From New York Sleaze Kings THE EROTICS - Released in conjuction with TrashPit Records.
Comes in Collectable Full Colour Gift Box including...
Vinyl Style CD
Sticker
Square Badge
Fold Out Double Side Poster
All items are unique to this Box Set and unavailable elsewhere.
Ships in time for RELEASE DATE 5th March 2012